Understanding How ZYTIGA® Works

ZYTIGA® (abiraterone acetate) is a prescription medicine that is used along with prednisone. ZYTIGA® is used to treat men with prostate cancer that has spread to other parts of the body.
ZYTIGA® works by interrupting the androgen-making process at an important step. It inhibits androgen at 3 sources—the testes, the adrenal glands, AND the tumor itself.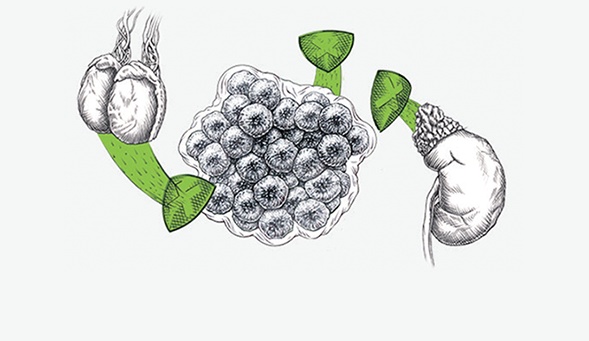 ZYTIGA® is different from some medicines that only decrease androgen production in the testes and do not affect the adrenal glands or prostate tumor tissue.
The Role of Prednisone With ZYTIGA®

While taking ZYTIGA®, you will also take prednisone. Because of the way ZYTIGA® works, certain side effects may occur. This can be life threatening. To decrease the chance of this happening, you must take prednisone with ZYTIGA® exactly as your healthcare provider tells you. Your healthcare provider will check your blood pressure, do blood tests to check your potassium levels, and check for any signs and symptoms of fluid retention every month during treatment with ZYTIGA®. For more information, talk to your doctor.
Take your prednisone exactly how your healthcare provider tells you to. Do not stop taking your prescribed dose of ZYTIGA® or prednisone without talking to your healthcare provider first.
Clinical Trial Experience With ZYTIGA®

ZYTIGA® was approved by the FDA based on 3 clinical studies including more than 3,000 men with metastatic prostate cancer—prostate cancer that has spread to other parts of the body—based on the following measures:
OVERALL SURVIVAL
How long men lived taking ZYTIGA® + prednisone vs placebo* + prednisone
DISEASE PROGRESSION
Length of time men lived without their disease getting worse† or dying while taking ZYTIGA® + prednisone vs placebo + prednisone
Not all measures are applicable to all clinical trials
*Placebo: An inactive substance or treatment that looks the same as, and is given the same way as, an active drug or treatment being tested. (National Cancer Institute: NCI Dictionary of Cancer Terms. Bethesda, MD: National Cancer Institute, 2015. Available at www.cancer.gov/dictionary. Accessed December 2019.)
†As measured by imaging studies.
The most common side effects of ZYTIGA® include:
Feeling very tired
Joint pain
High blood pressure
Nausea
Swelling in your legs or feet
Low blood potassium levels
Hot flushes
Diarrhea
Vomiting
Infected nose, sinuses, or throat (cold)
Cough
Headache
Low red blood cells (anemia)
High blood cholesterol and triglycerides
High blood sugar levels
Certain other abnormal blood tests
ZYTIGA® may cause fertility problems in males, which may affect the ability to father children. Talk to your healthcare provider if you have concerns about fertility.
Learn more about how to get started taking ZYTIGA® (abiraterone acetate).